Mar 24 2017
Until April 10th, you can make your way through the mazes and discover prizes!
There are four mazes, each with different prizes:
Maze 1: Golden Horseshoe and a Winged Draft Horse from a random breed
Maze 2: Golden Horseshoe and a Helios' Ray
Maze 3: Golden Horseshoe and a Titan's Challenge
Maze 4: Golden Horseshoe and the new Celtic Divine horse, Taranis
You move around the maze by clicking the arrows in the direction you want to go. Each move costs 10 paces, or a treat. There are treats scattered around the map, or you can buy them with passes. You recover between 3 and 5 paces per hour, depending on the skill of the horse you choose. When you choose a horse for the maze, you cannot take care of that horse. I have found that 5700+ skilled horses will generate 5 paces an hour. There are also different prizes around the maps, but these locations are different for everyone.
Taranis is a new Celtic Divine horse, and you have to find all 5 Oghamic letters from his predictio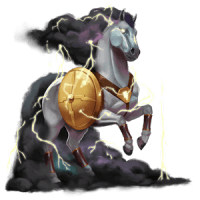 n by using his power of divination every day. Once you complete the prediction, you will get either of these prizes:
Titan's Challenge
Piece of Cloud
Blue 2** Classical Saddle Cloth
Big thank you to Asfridur for these maps and how many paces needed. Treat locations are not on these maps, but I am sure they can be found in the spoiler forum.
*For those looking for bigger prizes, head directly to map 3. Use the maps below to get through the quickest route, without stopping for prizes, until you reach the third map.
Maze 1 (63 moves):
Maze 2 (125 moves):
Maze 3 (196 moves):
Maze 4 (247 moves):
5 Responses to "March 2017 Mazes"
Leave a Reply