May 24 2017
Until June 12th, discover the Wild West with brand new scratch cards! Collect cards, and complete puzzles by getting the Wild West cards and win lots of surprises.
Get cards:
When you login for the first time of the day (2 cards)
Winning competitions (1 card per day)
Taking your horses for a ride (1 card per day)
In the flash sales
By trading duplicate cards (one trade per day)
By purchasing them with your passes
If you complete all 7 puzzles, you will win the newest addition to the Plant Kingdom Divines; Kaktos. If you get the correct gift card, you can also win the wild horse; Spanish Mustang (you can only obtain one Spanish Mustang, even though you activate several copies of the card!).
You can earn Golden Horseshoes for the Event trophy by activating 3, 13, 33, and 63 different cards. Collect at least 2 Golden Horseshoes to take part in the Prize Draw that takes place at the end of the event to have a chance to win Kaktos!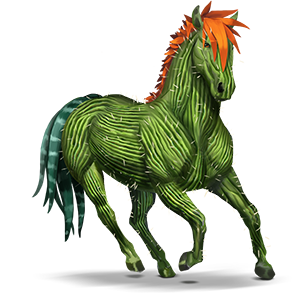 Kaktos can be watered instead of drinking. His skills increase when you give him droppings, and when he reaches 2000 skill points he can be pruned. His skills will then reset to 0, but he will give you one unicorn foal of a breed you don't have yet! Note that if you have all the breeds it will randomize. 
Leave a Reply