Jul 19 2017
Until 24th July, enter and race in the Derby to get flags to trade for prizes.
How to play:
During  a race, click the "throw" button to throw the ball as many times as needed to get your horse to the finish line. Use bonuses to increase your chances of landing on holes with a higher value to make your horse progress faster.
Get bonuses by:
Winning competitions (6 bonuses per win, 2 times a day)
Catch UFOs
Ask your friends for help (6 per day)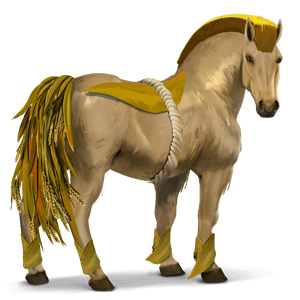 During the derby you have the opportunity to win a new Plant Divine; Caryopsis. Caryopsis' skills increase when you give her droppings. The skill increase depends on the season and how many droppings you give her. When she reaches 80 skill points, she can be pruned. Her skills will be reset to 0, but she will give you 1 Pass seed.
You can also find her in the Horn of Plenty, and when you have opened a  certain number of Horn of Plentys she will appear in your reserved sales. To trade flags for her you need 1350 flags.
Leave a Reply