Jul 27 2017
Until August 14th, help Ow rediscover Tumatauenga!
The Lost Isle Trek is like the mazes, just a little edited version of it. Instead of a dice, there's a wheel to spin.
Move from cell to cell looking for prizes. Collect keys to unlock the next boards to arrive on the final board and find Tumatauenga. Spin the wheel to find out how many cells you can move.
How to get roulette spins:
When you log in for the first time of the day (4 per day)
When a horse does a mission (4 per day)
By purchasing roulette spins
Jackpot prizes are the Maori Divine Tumatauenga, which can be found on board 6, and the Kaimanawa Wild Horse which can be found on board 5.
You get Golden Horseshoes with keys #1, #6, #20 and #39. Collect 2 golden horseshoes to participate in the prize draw to try and win Tumutauenga.
There are no map solutions to this one, as it is not really a maze, but more of a board game.
Tumutauenga is one of the Maori Divine horses. He has a tiki that you have to fill with mana. To get mana, you need to observe 3 turtle nests per day and find out if there are any baby turtles.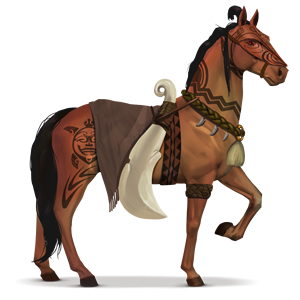 1 x baby turtle = 5 x mana
2 x baby turtle = 20 x mana
3 x baby turtle = 80 x mana
When the tiki contains 500 x mana, he will give you 1 x Achilles' Heel.
Leave a Reply