Nov 12 2017
Until November 27th, you can find gifts and complete puzzles with the new New Zealand scratch cards!
Get cards by:
Connecting for the first time of the day (2 cards per day)
Taking one of your horses for a ride (1 card per day)
Winning a competition with a horse (1 card per day)
Buying them in the flash sales
Trading duplicate cards for equus (once per day)
Buying them with your passes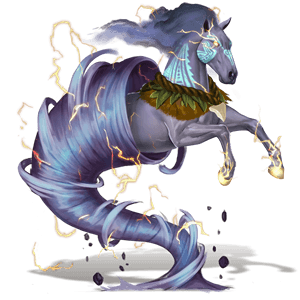 Win the newest Maori divine, Tawhirimatea, by completing all the puzzles.
Tawhirimatea has a tiki you have to fill with mana. To find mana, you need to observe turtle nests each day, and find out if there are any baby turtles:
1 turtle = 5 mana
2 turtles = 20 mana
3 turtles = 80 mana
When the tiki contains 800 mana, he will give you 1 Air Element.
You can also find Greyfell by winning it's prize card. *Note: Greyfell can only be won once.
Earn golden horseshoes  by  activating 3, 13, 33 and 63 different cards. Collect at least 2 golden horseshoes to participate in the prize draw which takes place after the event to have a chance to win Tawhirimatea.
For minimal pass spending, I would suggest waiting to the next or last weekend of the promotion, and buy the cards packs that are offered. I did this the last cards promo, and won the divine with spending just around 20 passes. If you have loads of equus, you can buy cards in the flash sales, and fill up the meter that will give you one diamond joker for just over 2 million equus to get Greyfell or a diamond card for a puzzle.
Good luck everyone, and have fun exploring New Zealand through these cards!
Leave a Reply