Apr 26 2018
Until May 14th, explore the Nordic kingdom with the new series of cards! Collect prizes and complete puzzles and win lots of surprises.
How to get cards:
When you log in for the first time of the day (2 cards)
When taking a horse for a ride (1 card)
For winning a competition (1 card)
In the flash sales
By trading duplicate cards (1 a day)
By buying them with your passes
Heimdall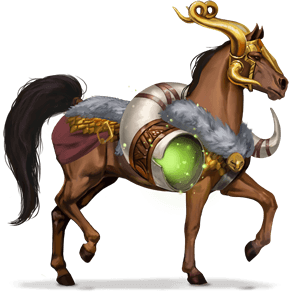 If you complete all 7 puzzles, you get the newest Nordic Divine, Heimdall. Lift the veil that has descended on the Nordic worlds by winning points with rides to Asgard, Midgard and Nilfheim (Howrse spells it as Niflheim, which is actually incorrect). Take care when choosing which ride to go on. When you get 510 points, the veil is lifted and Heimdall gives you 1 x Ow' Helios' Ray.
Golden Horseshoes
Earn golden horseshoes for the event trophy by activating 3, 13, 33 and 63 different cards. Collect 2 golden horseshoes to take part in the prize draw, to have a chance at winning Heimdall after the event.
Tips: Wait for the weekend offers to buy cards, and generally I tend to stay away from flash sales. The last time I finished a card promotion (Kaktos promotion), I only spent around 25 passes to get the divine.
One Response to "Nordic Cards – April/May 2018"
#

Kalika

on 26 Apr 2018 at 1:50 pm

What times are the auctions in the flash sales? Or are they random?
Leave a Reply